There are no certainty's in life, but cross-fingers we should get on for our first game of the year in Season 2012/13.
It's an exciting time at KGCC, and an appropriate time to thank club President Rob Cottle for his tireless work in organising and raising funds and support for the centre wicket project on the main oval. If you haven't seen it yet, it looks brilliant and will be a major asset to the cricket club and footy clubs. Work should be completed by lunchtime today. But take a look at what we have:
This week also marks Rhys Marget's 3rd attempt at his 300th game, with previous attempts being washed out. His patience and form in last weeks practice match warranted selection in the 1st XI. Here's what I wrote last year on his 300 games at KGCC.
When asked to comment on his past Rhys simply offered "No Comment", in truth there is not enough space here to comment on what has been an outstanding career as an individual and as a leader of men. Rhys has been at the club since it's inception in 1985/86 and has only recently wayned in his dedication to the cause in order to coach Knox Football Club's reserves and spend more time with his family. In that time he has amassed an amazing set of stats. 299 Games, of which 258 have been in the 1st XI, 8530 runs, 7 100's, 68 50's and a highest score of 141. In his earlier career Rhys was a keeper and a bowler and a terrific slips catcher. With 133 wickets, 293 catches, 38 runouts and 6 stumpings his record speaks for itself as one of the best in the local area. Rhys has lead the club as 1st XI captain on 6 occasions in 2 of those seasons the club won a 1st XI premiership, he has also won another 2 premierships in the 1sts. In 2003/04 he picked up the Lomax Medal, being for the Best and Fairest player in Decoite Sheild, and has been runner up for this award on 5 occasions. He has collected 5 club champion awards and been runner up a further 5 times, he has won the batting award 11 times and the bowling on one occasion. He has played 12 accosiation representative games and is now coaching his sons through juniors at club and representative games. Rhys was honoured for his service to the club with Life Membership and an award named after him in the "Rhys Marget Medal". He is recognised as a true club legend. Congratulations Rhys on your 300th game.
During his time at the club Rhys has hit 286 maximums with just 7 actually finding the sweet spot, he has been dismissed on 245 occasions by a "good nut that did a bit", on the other dismissals he was crueled by the umpire. Who can forget the day Rhys rang in to SEN to inform them that the club had had a big win, oh and he'd also had a big one, 96 i think it was that day! And then there's the newspaper article on 5th December 2006, Rhys Marget, Cricket Hero of the Year!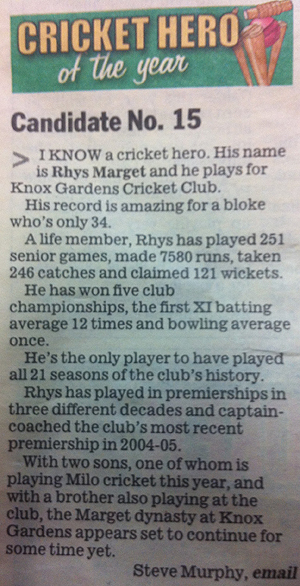 | | | |
| --- | --- | --- |
| 1st XI | | 2nd XI |
| vs FTG Footballers | | vs FTG Footballers |
| Away @ Picketts Reserve | | Home @ KGCC #1 |
| Arrive by 11.45am | | Arrive by 11:45am |
| | | |
| 1. David Prowse | | 1. Ben McLean |
| 2. Jamie Butcher | | 2. Brett Morrison |
| 3. Josh Gregory | | 3. Jeremy MacKinnon (C) |
| 4. Wayne McInerney | | 4. Zach Flintoff |
| 5. Niraj de Silva | | 5. Corne Mostert |
| 6. David Hay | | 6. Ash Thompson |
| 7. Rhys Marget | | 7. Andrew Potts |
| 8. Travis Mulder | | 8. Matt Young |
| 9. Adam Wild (C) | | 9. Nick Jankovkis |
| 10. Daine Vernon | | 10. Simon Grasser |
| 11. Daniel Adams | | 11. Blake Lines |
| | | |
| | | |
| --- | --- | --- |
| 3rd XI (Div 6) | | 4th XI (Div 7) |
| vs Upper FTG | | vs Knoxfield |
| Home @ KGCC #2 | | Away @ St Joes PS |
| Arrive by 11.45am | | |
| | | |
| 1. Sean Reid | | 1. Tristan Wilkinson |
| 2. Jamie Simmonds | | 2. Simon Wilkinson |
| 3. Paris Hilton | | 3. Dan Harry |
| 4. Scott David | | 4. Jamie Tanner |
| 5. Jason Buljubasic (C) | | 5. Josh Curnow |
| 6. Ash Hawkes | | 6. Chris Rock |
| 7. Sahil Shah | | 7. Ian Jongen |
| 8. Jack Deveson | | 8. Gerad Jongen |
| 9. Brad Martin | | 9. Jimmy Sporton |
| 10. Dishan Malalasekera | | 10. Andrew Gregor (After Tea) |
| 11. Nathan Montague | | 11. TBA |
| | | 12. Shannon Small (Week 2) |
| | | 13. Simon Taylor (Week 2) |
| | | |