Unfortunately 0 from 3 Grand Final wins was the result from the weekend.

The U/13 1's had problems on Day 1, allowing Eildon Park to hit 6/268 from their 50 overs. Anthony Howes was the pick of the bowlers with 1/19 from 7 overs. On Day 2 some of the players were unwell which left Scott McInerny to carry his bat with 47* in the total of 10/107. Scott has hit 431 runs at 143.67 this season with scores of 74*, 59*, 54* and 50* it's been a great year for him. Dylan Wylde has also had a good year with the bat, hitting 353 at 58.83 with scores of 96* and 59*. Jayden Hawkes took the bowling honours with 17 wickets at an average of 11.47 with best bowling of 4/9. Jordan Grimston had the most catches with 8.

The U/15's batted first and compiled 10/181 from 46 overs, with star batsman Rob Howes making 53, Jonathon Lim 35, Pat Forrest 26 & Ben Morello 24. Day 2 was a tight battle with Johnson Park getting the early points by maintaining wickets and scoring. Knox Gardens fought back towards the end, with Ben Morello taking 2 wickets in a row, both bowled, and lifting the boys. In the end, Johnson Park got over the line with just 2 wickets in hand and 6 balls to spare. At the end of the day extras were the difference with Johnson Park conceeding 11 and Knox Gardens conceeding 75!
Look at the rest of the u/15 pics
here
Throughout the season Rob Howes has starred with the bat, making 590 runs at a Bradman-esk 98.33, including 6 50's and 1 100*, Rob also took 10 wickets with the ball. Ben Morello took 15 wickets at 10.93 and Ash Hawkes also took 15 at 15.53.
The 5ths showed too much confidence in their game at Llewellyn Park. Sent in to bat, they played their shots and were dismissed cheaply. Daniel Adams was the only player to really trouble the scorers with 29 out of the total of 74 in just 17.5 overs. Despite the low total, the 5ths have a great bowling line-up and were still in with a chance, Simon Wilkinson opened the bowling, and snaffled a very early wicket. Daniel Adams was also the pick of the bowlers with 3/14 from 8 overs. Footballers passed the total with 3 wickets in hand, in front of quite a big crowd.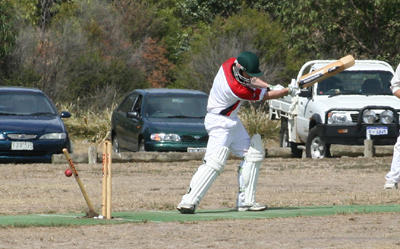 Look at the rest of the 5ths GF pics
here
Don't forget that Senior Presentation Night is on Saturday March 29th beginning with Happy Hour at 5.30pm at the clubrooms, see you there!