Third XI player Greg Crook is the new holder of the club bowling record, taking 8/24 in a devastating spell of bowling to dismiss Upwey for just 53 in their 2nd innings, also effecting an outright win for the 3rd XI and securing their position in the top 2 on the ladder. Crookies best bowling prior to this was 6/89 against Johnson Park in Jan 2006. Crookie has taken the record from previous holders Blake Lines 8/35, Nathan Hale 8/38 and Rod Marget 8/39.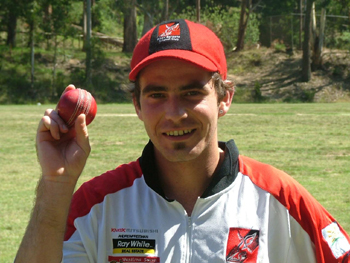 Zane Thomas also managed to convert his overnight score of 80* into 114, his team mates describing his Day 2 innings as one of fortune, with dropped catches and a missed stumping prior to his passing the magical 100 mark. Lets hope Zane takes his Day 1 form into the rest of the season.
In other games, the 5th XI pumped top side Auravale with Tristan Wilkinson contining his magnificent form with the bat, another 50* takes his average to 78.67 and could see us comparing him to the
great man
if his form continues. Dave Hay also took 4/20, proving the 5ths have a tremendous bowling line up.
The 4ths snuck over the line in a last ball contest. Ash Hawkes (18*) and Ben Morello (19*) put on a fantastic last wicket stand to make sure the 4ths kept their finals hopes alive. David Hancock 32, and David Thomas 27 also contributed with the bat and Drew Withers took 3/27 with the ball.
The 3rds took outright points from their contest with Upwey. Crazy Cottle 41 and Zane Thomas 114 build the majority of the score, however handy contributions from Luke Perryman and Greg Crook in the tail saw them take the score to 244, a 1st innings lead of 65. Then Crookie did the damage with the ball snaring 8/24, and demolishing Upwey for 53. A massive turnaround for the 3rd's who lost outright last game.
The 2nds were too strong for Mountain Gate, winning their game on 1st innings by 175 runs. Skipper Jason Buljubasic took 3/27 surprising everyone with his gentle mediums. Moutain Gate were sent in for a second innings but Sean Reid and Aaron Bailey failed to take wickets in their spells of bowling, Mountain Gate finishing on 0/34.
The 1st XI again lost outright, however the circumstances were different this round, with the boys trying to effect a reverse outright in the dying stages of Day 2. Josh Phillips 30, and Josh Gregory 21 were the best scorers in the 1st innings dismal total of 96. Adam Wild and Matt Young also put on 22 for the last wicket but fell 5 runs short of the follow-on figure. South Belgrave exercised the option, and Knox Gardens batted well in the second innings, Sammy 36, Josh Phillips 27* and Jarrod Butcher 24 all got their runs in a quick manner. Travis Mulder pulled the pin on our innings with the score on 5/156, a lead of 72 and 45 minutes to play. Unfortunately, South Belgrave came out swinging a got the runs with a few minutes to spare.
For those who weren't at the match reports on Saturday night, club president Bill Leane has laid $100 on the bar to anyone in the 1st's or 2nd's that hits a ton in the last 2 rounds of the season. Not that money should be a moviating factor, but it would be good to take his $$. There'll be a similar offer from me come finals time for the 3rds, 4ths and 5ths. A 6 pack of Jim Beams to anyone making a 50 and slab of Jim Beams for a 100. Good luck.
In the Dream Team competition, my team "Any Given Saturday" dominated this round. Luckily I had Crookie, Zane, Luke Perryman, Travis Mulder, Adam Wild & Ian Jongen in my team, all star performers in the round. The action has hotted up too at the top of the table, with "Demons in da sack" taking the lead over from "Draw nicks at Will". On the player ladder, Travy has opened up a 41 point lead over Wilba, with Simon Wilkinson & Luke Perryman very close behind.